Avoid tacos at 7-Eleven and coffee at Taco Bell. Source matters in everything you consume and that applies to Sourcing and Price Benchmarking trends too.
Don't ask an advisor what the size of ChatGPT in sourcing deals will be in 2025 and don't ask a researcher how best to calibrate your multi-million-dollar contracts. You are bound to be misled in either case.
There's so much broad stroking on IT-BPO Sourcing & Pricing trends going around that I decided not to write a blog post but a MANIFESTO! 🙂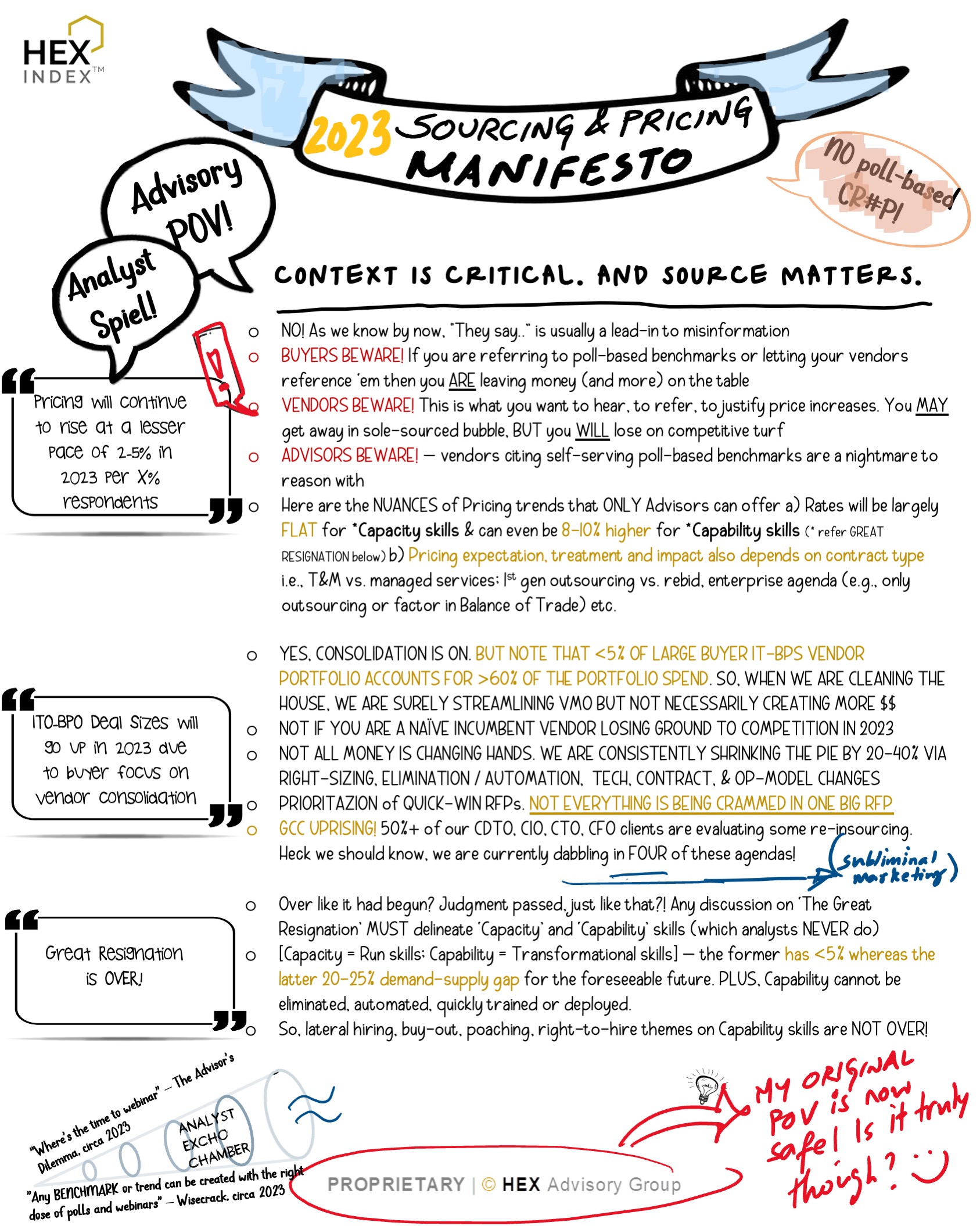 In a BOT model, service provider runs operations in initial stages with an option to transfer back to buyer later. While the operational risk lies with the provider in a BOT model, buyer should staff its employees in all the relevant management layers.
The provider and client together implement a management oversight layer responsible for meeting deliverables and milestones for each phase.
The intermediate management layer consists of a blend of provider and buyer employees, allowing the buyer to have easier access to the provider's knowledge base and expertise
Provider employees makes up the core workforce.
During and post-pandemic, Talent is among the most secular agendas across all firms pan industries. And as firms are scrambling to get the appropriate talent onboard, recruitment process operation is the backbone to execute the talent strategy. As a result, recruitment process outsourcing (RPO) industry has been seeing a sharp growth especially post H2 2021.
A combination of factors are in play that influence enterprises to outsource their recruitment processes.
As a result of the increasing complexity of the health plan environment, coordination of payments to multiple parties and a wide range of government and private health plans remains a challenge. Payment Integrity solutions are reducing the rising healthcare waste and fraud to ensure that claims are paid correctly, free of leakages. Using advanced analytics and data mining, patterns are identified across billions of lines of claims to predict errors in claims, thereby helping firms to reduce waste and focus on value-based care for patients.
We see broadly three types of engagement models in the Payment Integrity space:
Business Process as a Service: Service provider offers Healthcare Payment Integrity to client as a service via a combination of platform (either proprietary or white labelled) and managed operations
Platform License: Providers license the software to an enterprise who then manage the operation
Software as a Service: Payment Integrity platform is offered on a SaaS model. The platform can be hosted on customer's environment or on cloud. The engagement is based on an outcome-based pricing e.g., based on % of validated overpayments of recovery Per Member Per Month along with Fixed annual hosting price (if applicable)
What you control is governed by the metrics you measure and report on. But are the right metrics being measured? Traditionally, the functional and back-office metrics have been linked to the respective functional areas and the linkage to enterprise objectives, if at all, may not be evident. The Business Level Agreements (BLAs) framework can help fill this vacuum and ensure that the reported metrics are linked to the business priorities.
Some of the typical BLAs used in F&A processes:
Accounts Payable: Error free payments, DPO, PO penetration
Accounts Receivable: DSO, Cash Application Time, Average Time to Bill
General Accounting: Days to close month-end, Reconciliation Cycle Time
A well thought out set of BLAs is a great mechanism for the support functions (and service providers) to see their impact on the business and the other way round. Enterprises are increasingly embedding these in the contracts to drive risk-sharing and partnership behaviours.